Stainless Steel 3D Printing
Stainless steel is a corrosion resistant metal with high hardness and strength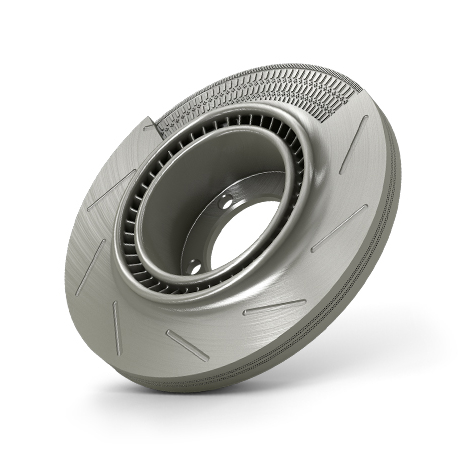 Stainless steel is a corrosion resistance metal with high hardness making it a versatile material option. We offer two grades of stainless steel through our 3D printing service:
Stainless Steel 17-4 PH
Select 17-4 PH for its significantly higher tensile strength and yield strength, but recognize that it has far less elongation at break than 316L. Final parts built 17-4 PH receive vacuum solution heat treatment as well as H900 aging.
Primary Benefits

Heat treated for full hardness and strength
Corrosion resistance
Stainless Steel 316L
Choose 316L when stainless steel flexibility is needed; 316L is a more malleable material compared to 17-4 PH. Final parts built in 316L receive stress relief application.
Primary Benefits

Acid and corrosion resistance
High ductility
---
Compare Stainless Steel Properties
Materials
Resolution
Condition
UTS
Yield Stress
Elongation 
Hardness
Stainless Steel
(17-4 PH)
20 μm
Solution & Aged (H900)
199 ksi
178 ksi
10%
42 HRC
30 μm
Solution & Aged (H900)
198 ksi
179 ksi
13%
42 HRC
Stainless Steel
(316L)
20 μm
Stress Relieved
89 ksi
73 ksi 
55%
94 HRB
30 μm
Stress Relieved
92 ksi
72 ksi
58%
94 HRB
Materials
Resolution
Condition
UTS
Yield Stress
Elongation 
Hardness
Stainless Steel
(17-4 PH)
20 μm
Solution & Aged (H900)
1372 MPa
1227 MPa
10%
42 HRC
30 μm
Solution & Aged (H900)
1365 MPa
1234 MPa
13%
42 HRC
Stainless Steel
(316L)
20 μm
Stress Relieved
614 Mpa
503 MPa
55%
94 HRB
30 μm
Stress Relieved
634 MPa
496 MPa
58%
94 HRB
---
Applications for 3D-Printed Stainless Steel
Stainless steel's corrosion resistance and hardness makes it well suited for components used in the aerospace, medical, and automotive industries. Examples include:
Surgical instrumentation
Fuel injectors
Engine components
Manufacturing aids