On-Demand Manufacturing Bolsters Medical Device Innovation
Posted On February 28, 2023 By Protolabs
The U.S. population is aging, led by the growing number of baby boomers who are moving into their 60s, 70s, and 80s. In fact, by 2030, all baby boomers will be 65 or older.
This rising senior population means more business for the country's medical device manufacturers. It already has been a key driver in the industry's growth.
The medtech and medical device market was valued at $176.7 billion in 2020 and has an anticipated annual growth rate of more than 5% through 2028, according to an industry research report.
As that report pointed out, consumable medical devices and patient aids, "such as gloves, syringes, masks, PPE kits, infrared thermometers, pulse oximeters, and testing kits," saw a sudden upsurge in demand because of the COVID-19 pandemic. "The scenario set off lucrative opportunities for both existing players and new entrants."
Beyond this pandemic-related list, of course, other examples of medtech instruments and medical devices abound: surgical tools, handheld devices, various diagnostic and surgical machines and robotics, imaging technology, ventilators, implantable prototypes, prosthetic components, microfluidics, wearables, cartridges, sensors, and more.
Accordingly, robust research and development (R&D) will continue for the medtech industry as product designers and engineers seek new ways to meet the mounting health care needs of our maturing population. At Protolabs, we serve this industry by working with companies large and small—from tiny startups to large global OEMs—to accelerate product development and market launches through our rapid prototyping and low-volume, on-demand, digital manufacturing services. Indeed, digital manufacturing is well suited for medical applications. Here are a few recent examples.
---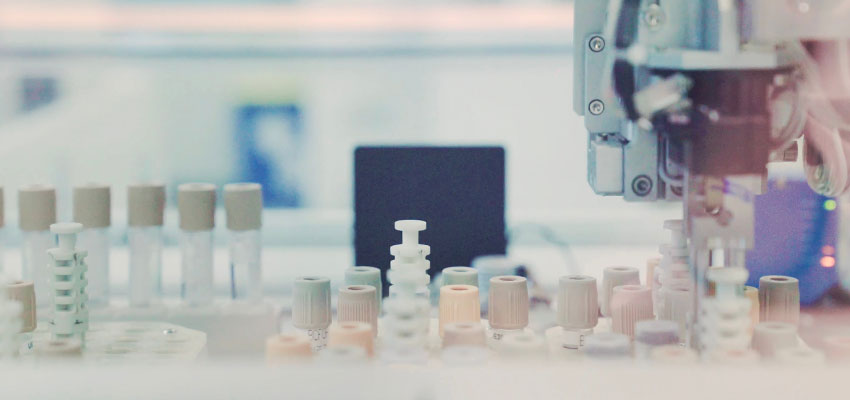 ---
Injection Molding Helps Launch New Coronary Tech to Market
Waltham, Mass.-based Corindus, a Siemens Healthineers Company, needed prototype and production-ready tooling and parts fast. The medical device firm was developing an advanced robotics technology system and needed to meet demanding testing schedules, customer evaluations, FDA clearance requirements, and production startup deadlines. They also needed to mitigate early demand uncertainty.
Our on-demand manufacturing for injection molding produced plastic parts rapidly—in weeks instead of months. The parts were high quality and manufactured in low volumes (in the tens of thousands with 30 to 40 tools) at an affordable price. The parts were produced only when needed—in other words, true "on-demand manufacturing"—which helped solve concerns about the initial uncertain demand for the coronary interventional product the company was developing.
Eventually, the product, Corindus' CorPath GRX Robotic System, was FDA-cleared, CE-marked, and is now used worldwide.
Machining, Molding, and More Enable Blood Analysis Device Innovation
Engineers at Hemosonics, a Charlottesville, Virginia-based medical device company, needed to slash development time during prototyping. They were iterating through designs rapidly under tight deadlines during the company's early years of R&D and needed a contract manufacturer that could machine parts quickly. They turned to us. On a recent project, HemoSonics engineers needed prototype parts about the size of a computer monitor for the casing around the Quantra System blood-clot analysis machine. The prototypes were developed to demonstrate form, fit, and function of the Quantra System to physicians at various hospitals.
Using our quick-turn digital manufacturing, they were able to produce custom prototypes for several design iterations within days. Machining was used for some products, and in other cases, 3D printing (additive manufacturing), injection molding, and sheet metal fabrication. Quantra System products are now on the market in the United States and Europe.
Sheet Metal Fabrication Supports Unique Wheelchair Design
GRIT's Freedom Chair offered users the ability to "move off the pavement," but the Massachusetts-based company needed a partner to manufacture parts that kept its wheelchair portable, lightweight, and affordable. By using our sheet metal fabrication service, GRIT's engineering team gained access to lean, just-in-time manufacturing for their on-demand parts. The Freedom Chair combines strong, lightweight materials, yielding a versatile, compact, manual wheelchair that manages a variety of terrain, even snow and dry sand. Since partnering with us, sales volume has surged.
---
---
3D Printing Helps Garner Big Innovation from Small Parts
Industrial-grade 3D printing—and an exclusive MicroFine™ resin—helped North Carolina-based startup UVision360 rapidly prototype ultrafine parts, reduce tooling costs, and speed a diagnostic scope to market.
The medtech company needed to cost-effectively and quickly prototype extremely small parts for its LUMINELLE Hysteroscopy System before shifting to micro-molding.
UVision360 used Protolabs' stereolithography 3D printing process, featuring its exclusive, micro-resolution MicroFine Green™ thermoset resin, to rapidly prototype parts with ultrafine features. Quick-turnaround manufacturing helped UVision360:
Speed through design iterations
Confirm that ultrafine features in 3D-printed prototypes would work in stainless steel tools
Launch the LUMINELLE system to market in less than two years
Garner dramatic cost savings.
The ultimate savings by finalizing the designs of 20 to 30 parts using Protolabs and our MicroFine resin prior to ordering hardened steel tooling was about $250,000 in tooling revisions and modifications. Incidentally, MicroFine resin is also available in gray.
You can read more customer success stories here.